According to data presented by stockapps.com, Cisco's EBITDA is expected to grow $20 billion in the year 2023. 
EBITDA stands for Earnings Before Interest, Taxes, Depreciation, and Amortization. It is one of the measures of a company's financial performance.  Cisco's EBITDA in 2021 was $18.46 billion and the forecast shows that the figure could get to $18.98 billion in 2022. 
Edith Reads from stockapps.com commented on the forecast findings and had this to say, "Anyone in the tech world will agree that Cisco is a force to reckon with. The tech mogul has played a critical role in the development of networking systems as we know them.  I can only expect these earnings to increase, with more innovations coming up in the world of tech and computers."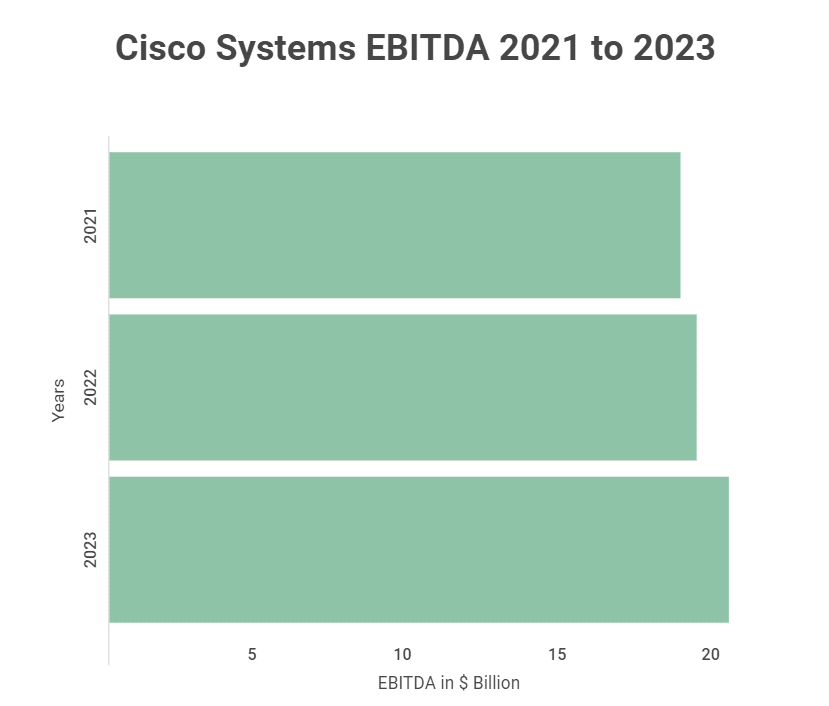 Cisco's growth history
Cisco Systems has had quite a trajectory since it was founded in 1984. The conglomerate company has played a crucial role in Silicon Valley's growth over the years. The company manufactures high-end technology products, including networking hardware, software, and telecommunications. 
Cisco went public in 1990 and had a total market capitalization of $224 million. By December 2021, this value had grown to $267 billion. 
The company's revenue has also been growing steadily over the years. In 2006, the tech giant recorded annual revenue of $28.48 billion. This figure has grown to $49.8 billion by the end of 2021. 
Company's stock on the rise as markets plummet
Cisco is an American multinational technology conglomerate specializing in IT and networking solutions. The company is a global leader in its field, and recent data indicate that it is on an upward trajectory in terms of Earnings before Interest, Tax, Depreciation, and Amortization (EBITDA).
Despite the overall dip in the stock markets, Cisco Systems shares have been performing well. At the time of writing this article, the shares had gained 0.31% in 24 hours and were selling at $55.34.
Although Cisco is one of the largest IT companies globally, it focuses on specific tech markets. These include the Internet of Things (IoT) and video conferencing. As the need for more networking solutions arises with the increase in remote work, the future may hold more opportunities for Cisco to increase its earnings in the coming years.