Centralized exchanges take the lion's share when it comes to cryptocurrency trading. These regulated markets operate similarly to traditional institutions, such as the stock market. However, the last few years have seen an increase in decentralized exchanges as more crypto enthusiasts leverage their advantages over CEXs.  
Stockapps.com has been following the trends on DEXs. Recent findings on the site indicate that DEXs are growing in popularity, with the spot trade volume ratio standing at 11.88% as of February 2022. Although this declined from January's 13.42%, the ratio is still quite high. Besides, it seems to be on an upward trajectory if the 12.48% preliminary March ratio is anything to go by. 
"Decentralized exchanges are increasingly becoming popular among the crypto community. These exchanges are building on the shortcomings of CEXs, and it's only a matter of time before they completely take over." Edith Reads from stockapps.com said.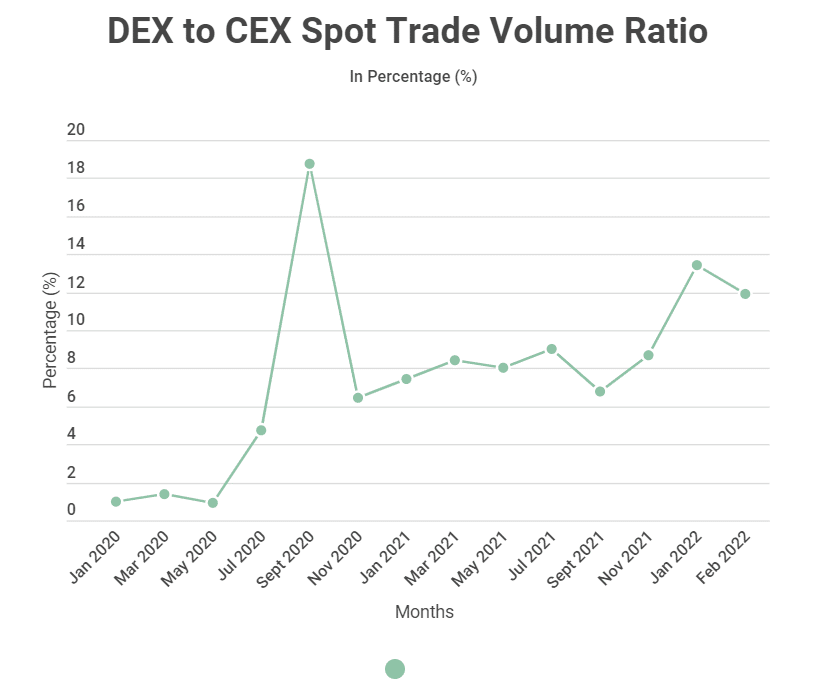 The Rise and Rise of Decentralized Exchanges
The NXT Asset Exchange was the first decentralized exchange established in 2014, paving the way for other similar platforms. However, it wasn't until the 2020 DeFi boom that these exchanges started rising. 
The data by tradingplatforms.com shows September 2020 as one of the best months for DEXs. The spot trade ratio for DEX to CEX was 18.77%, the highest ratio to date. This ratio rose steadily since May 2020 and dropped significantly to 6.43% in November 2020, after which it has been on a relatively stable path. 
One of the most significant driving factors to the growth of DEXs is the DeFi craze, spurred amidst the global pandemic. Two years on, DEXs are here to stay, and the numerous advantages over CEXs make them a favorite option for crypto enthusiasts. 
DEXs offer lower transaction costs and higher speeds. But, perhaps the most coveted advantage is that users have total control over their assets.
DeFi, Web 3.0, and NFTs to Spur Growth of DEXs
Although centralized exchanges are still quite popular among users, DEXs are closing in on the gap. Just as DeFi spurred the initial growth of decentralized exchanges, it's plausible to conclude that NFTs and Web 3.0 will also play a significant role in bringing DEXs to the masses. 
As the world moves towards the new internet age of web 3.0, central authorities are slowly being phased out. Today, more users are more concerned about controlling their assets, which is why DEXs are preferred.
There's no denying that decentralization has its fair share of downsides. However, it just may be the one tool to level the future playing fields.