Americans will soon have a wider pool of electric vehicles (E.V.s) to choose from. Legacy automakers are pushing their E.V. production. According to a StockApps.com analysis, that will more than double the current E.V. offering by 2024. The analysis suggests that Americans will be able to choose from 134 different models by then.
The move by legacy automakers is a response to the growing demand for E.V.s. Besides expanding the E.V. pool for American consumers, it portends more pressure on market leader Tesla. The development suggests that the average E.V. prices will significantly drop as competition intensifies.
StockApps.com's Edith Reads concurs that the development will lower E.V. unit prices. She holds, "Legacy automakers are under considerable pressure to deliver on their green initiatives. Increasing their E.V. offerings is also a sign that they're taking them seriously. That's likely to see Americans paying less for E.V.s as competition rises."
While most production has focused on sedans, analysts expect a shift towards trucks and SUVs. These, they say, offer automakers higher margins.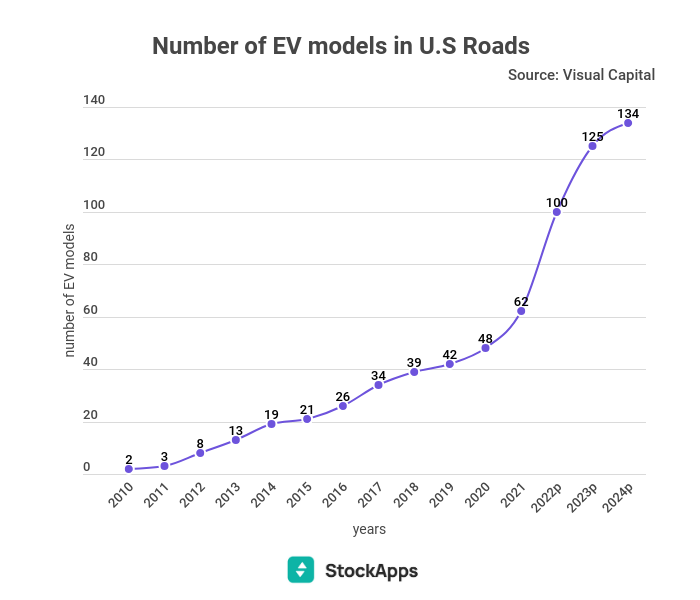 What next for Tesla?
Tesla is the established leader in the U.S. E.V. industry with a market share of about 66%. It has maintained this lead due to its first-mover advantage. But as more automakers ramp up their E.V. production, it'll have to work harder to retain its market share.
StockApps.com's analysis also suggests that Tesla's dominance in the market has been dwindling. In 2020, Tesla made up 79.5% of all E.V.s sold in America. That number was down to just 66.3% last year, with other leading brands such as Volkswagen, Ford, and G.M. challenging for market share. This trend may continue with new entrants entering the fray.
The legacy brands seem to be chipping at Tesla's market share. However, they are still trailing in other areas, such as charging infrastructure and battery technology. Their slowness in embracing E.V.s has made their bid to unseat Tesla from its perch daunting. 
The future of American roads is electric
The new production could boost the percentage of electric vehicles on U.S. roads. IHS Markit reckons that EVs will make up 45% of all cars on American roads by 2035. It further projects that by 2050, 50% of all the vehicles on the roads will be electric.
Increased E.V. production is central to the U.S. attaining carbon neutral status by 2050. The development will catapult the U.S. market to the fore of global climate preservation. However, analysts warn that achieving that target remains a tall order.
EVs' changing fortunes
Many once considered electric vehicles toys of the wealthy. The cost of owning one, combined with their charging cost, was out of reach for most Americans. But as time passed and more people invested in E.V.s, more companies have started to view them as a viable option for their customers.
The result? An explosion in E.V. models available to American consumers. Some analysts suggest that the impetus for this push comes from pressure from legacy car manufacturers wanting to compete with Tesla. Regardless of what drives the development, American consumers stand to benefit from more choices and affordable E.V.s.